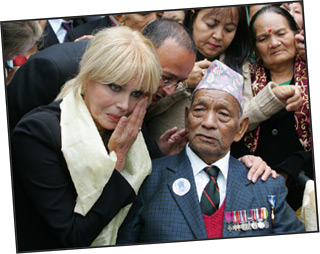 Following weeks when we've seen the pride in our democracy dragged through the streets of Westminster... today a little of that pride has been restored in our democracy and in Great Britain!

At midday today, Home Secretary Jacqui Smith made an announcement to the House of Commons that the Gurkha Justice Campaign have been fighting for for years. All ex-Gurkhas who have served more than 4 years in the British Army will have the right to settle in the UK if they wish.

After such a long fight, with huge ups and downs, "this is a superb announcement", said the Gurkha Justice Campaign.

The Government has now responded to that campaign after court cases, votes in Parliament, a huge media campaign and, most importantly, massive public support.

Speaking on behalf of the Gurkha Justice Campaign, Joanna Lumley, who has led this remarkable campaign and won the hearts of so many of us across the country in the process, said:


"We simply would not have won this fight without the massive, overwhelming support of all those who have supported our campaign.

To the hundreds of thousands of people who have signed Gurkha Justice petitions, lobbied their MP, campaigned, attended rallies and marches - thank you so much to you all. This is your victory. It would not have happened without you.

The whole campaign has been based on the belief that those who have fought and been prepared to die for our country should have the the right to live in our country. We owe them a debt of honour - a debt that will now be paid.

I am delighted, and humbled, at what has been achieved by our remarkable team."

Joanna Lumley's words will echo the sentiments of most of the British people, I'm sure and I for one congratulate the Gurkha Justice Campaign team and everyone who supported this very worthwhile cause.

I think the most important point is this... that in this campaign it is democracy that has ultimately triumphed... albeit it with a Government having to be dragged kicking and screaming... (with some Ministers even being pulled by the nose) to finally be shamed into doing the right thing... something rare in Parliament in this day and age!

My best wishes to all Gurkhas and their families who will now be able to enjoy a life in the United Kingdom, without hindrance and who have been embraced by the affection and gratitude of the British public!

AAYO GURKHALI!!!!

As a little footnote... I do hope the BNP are listening!!