As you may have heard on the news yesterday, both Britain and France admitted that two of their nuclear powered submarines, HMS Vanguard, armed with Trident nuclear ballistic missiles and Le Triomphant, also armed with strategic nuclear missiles, collided while submerged in the Atlantic earlier this month.

As I took in the news yesterday, I wondered how long it would be, before this event would be connected to the polemics of nuclear submarine visits to Gibraltar and transitting the Bay of Gibraltar area. Well, I didn't have long to wait.

Today, a couple of esteemed colleagues, British expats who write on matters that surround them, (and whatever else takes their fancy... ) in Southern Spain, Andalusia and Gibraltar, over at Tilting at Windmills and JimenaPulse, both made the connection to the issue in blog posts.

I suppose, understandably, they pose the question, "Nuclear submarine collision in Gibraltar - what if?"

While the usual suspects in the area, such as the 'greens', some PSOE politicians and no doubt one or two of the communities' mayors, will get all a'fluster, in their usual way... they just love any opportunity to stir this one up... there really is very little real cause for concern.

The collision, undoubtedly embarassing to both Navies, was from a point of view of nuclear threat, minimal. For starters, these submarines' hulls are designed and built to withstand extremes of pressures. Even a collision at speed would be unlikely to rupture the actual hull. The fact that these submarines enter and leave or transit the whole of the Bay of Gibraltar area at slow navigating speeds, often even being aided by tugs, (at slow speeds) makes the possibility of hull ruptures, never mind damage to reactors, through a collision, completely negligible if not farcical.


As for the nuclear weapons themselves.... the chances of one of these going BANG!... due to a collision, again is nigh on impossible. These weapons have to go through a myriad of sequential steps, before they are properly armed or able to be triggered and ready for launch.... never mind accidentally going off. It's just not physically possible for this to happen accidentally.

I know what you are thinking.... after all... they did also say the Titanic was 'unsinkable' right? But... I think we really need to get real here. Alarming the local communities about risk to life and limb... or their health is ludicrous in this particularly context, in my humble opinion.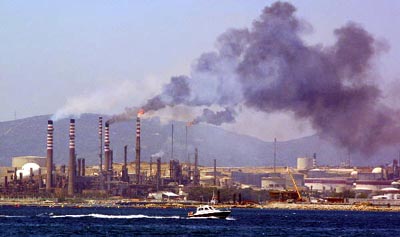 There are much more real threats to health to all the communities in the Bay of Gibraltar. I am referring of course, to the very well documented issues of pollution in the Campo de Gibraltar area. Huge, uncontrolled and unacceptable pollution caused by the CEPSA Refinery, Acerinox and other industrial plants along with the endless and again, totally unacceptable levels of benzene, often because of bunkering activities in Gibraltar itself, that are constantly experienced throughout the area!

The Plataforma por el Estudio Epidemiologico (which includes the ESG and Bay Bucket Brigade) have been campaigning on these issues for a very long time. In November 2002, a complaint was lodged with the EU and is still awaiting a substantive response!

These groups have been seriously questioning the legality of pollution and especially benzene levels present in the Campo and Bay areas for decades.

This, to my mind, is far more worthy a cause to complain about... even to raise the alarm about... as a matter of urgency, for the better health of the people and communities of the Bay of Gibraltar and Campo de Gibraltar areas! It's long overdue. For some... it's actually too late... I suspect, yours truly included!