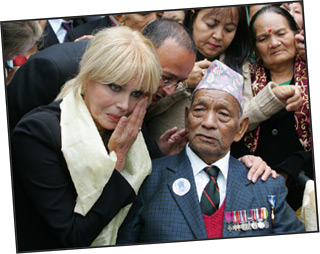 I am delighted to read a BBC New report tonight, saying that the government decision to limit the number of Gurkha veterans allowed to settle in the UK last week will now face a parliamentary challenge from the Liberal Democrats.

The BBC reports the Lib Dems have secured a debate on the issue in the House of Commons on Wednesday.

Gurkha Justice Campaigners claim fewer than 100 of the Nepalese soldiers will benefit from the Home Office's offer of UK residency to Gurkhas who meet certain conditions.

The government insisted that changes to residency rules would allow an extra 4,300 former Gurkhas to settle.

Liberal Democrat leader Nick Clegg held talks with actress Joanna Lumley, who has spoken out on behalf of 36,000 Gurkhas denied residency because they served in the British Army before 1997.

Ms Lumley, whose father served in a Gurkha regiment, will join other campaigners for a demonstration outside Parliament when the debate is held.

'Not betrayed'

Mr Clegg said the debate meant that a minister would have to "come and explain the government's insulting decision to turn their back on these brave soldiers".

"This is our best chance to force Gordon Brown to back down, even at this late stage," he said.


"People who are prepared to fight and die for this country should be entitled to live here.

"Yet even this basic principle is broken by a government desperate to cover its back and wriggle out of its commitments."
On Friday, immigration Minister Phil Woolas denied the government had "betrayed" the Gurkhas, claiming the new rules would improve their situation.
Read the full
BBC News report